10 Ideas for Keeping Your Web Content Fresh
Updating and changing a website is important – not only for your customers, but also for search engine placement. Google tracks how often your content changes and websites that have changing content are given a boost in the rankings. This makes sense from both a search engine robot and a "real person" point of view. Every business changes and grows or it dies. If your website does not reflect your changing business, it is not representative of your current business.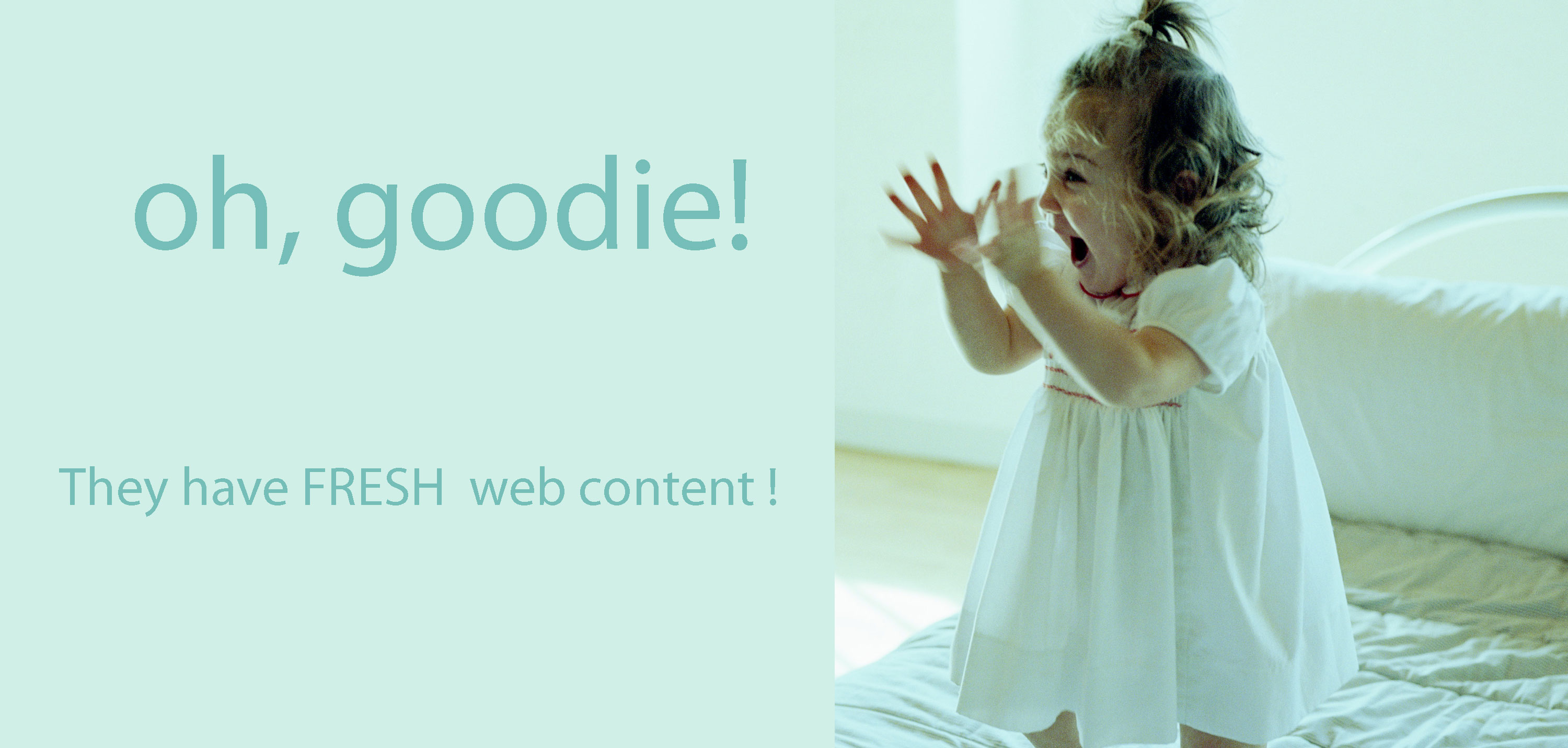 But … not every business has new products to introduce, so how do you keep content fresh?
Spotlight Your PEOPLE: Customers are interested in who works for you. Short articles on your staff could be the way to give your website the "personal" touch that sets you apart from the competition. We are not suggesting long resumes or personal information, of course. Just an informal photo of one of your people, doing their job – or even OFF the job with an interesting hobby – can be the start of a few paragraphs introducing your employees to your customers.
Spotlight your Customers: Ask your customers for reviews on your company. What did they like – and, of course, ways you can improve. When you get a review or testimonial, ask permission to place it on your website.
Spotlight Your COMMUNITY: Why not have a place on your website to announce your community involvement? Did you sponsor a local organization? Did your employees participate in a community race? Adding a short summary of a local activity – and an informal photo – will give you exposure while portraying your business in a positive light in the community.
Spotlight what's NEW: Obviously, if you have a new product or a new service, you want to announce that on your website. But what if your business services don't change regularly? Look around for things that will show your clients that you are constantly upgrading and modernizing. Maybe you have a new piece of specialty equipment or a more advanced system for support requests. Perhaps you have expanded into new markets or locations. Your customers will be interested in knowing you are constantly looking for ways to improve your service.
Add a "Calendar" Announcement: Does your business market through professional conferences or tradeshows? Announcing your next company appearance on your website might get you that extra client contact and will definitely appear as "updated" information to search bots.
Add Seasonal Information: Almost every business has items that have seasonal relevance. You can add a section to highlight one of your products or services with the change of seasons – even if your products are not seasonal in nature. People look forward to the coming changes of seasons and you can use that as an "excuse" to remind people to contact you about your company's services or products. You might use a seasonal photo with text or a few sentences highlighting your products with a link to that part of your website, for example.
Make a LIST: Creating content with the title "6 Ideas for…." Nearly always catches the attention of your visitors. Make a list of just about ANYTHING related to your business, in fact, make several lists in advance and have them ready to change out every few weeks or months. All you need is a bulleted list with titles and a paragraph of text. You can even link each list item to a different page in your website.
Run a survey: Create a survey using an online service such as Survey Monkey. The basic survey is free, but you can choose one of their business plans and have constant feedback on your company or a different survey every month!
Sponsor a giveaway: If your business uses email addresses for marketing, you can sponsor a contest giveaway to collect user emails and bring traffic to your website at the same time.
Sponsor a mentor/intern program: Contact schools in your area and offer to host a student intern for a few days each month. The students will learn about the workplace, the schools will benefit from community work and you'll have a sponsorship intern to interview and place on your website.